MATERIALS
We only source and use high quality metals so our jewelry will last (and wear like it's much more expensive than it is!)

STERLING SILVER:  We use solid (and certified) .925 sterling silver in our silver designs. Sterling Silver is a classic metal alloy that is durable, lightweight, and considered a "forever" metal.
14K GOLD FILL:  Gold filled metal wears like solid 14k gold and is just as durable. For this metal, a thick layer of solid 14k gold is pressure bonded to a base metal core (jewelers brass). Gold fill is not plated or "dipped" and, with proper care, will last as long as solid 14k gold. Gold-filled pieces can still tarnish, but it takes special circumstances for that to happen.
See the image below to better describe gold filled metal vs. gold plated.
14k Gold filled vs Gold Plated
14k Gold Filled metal is a thick layer of solid 14k gold that is heat bonded to a center core of high quality jeweler's brass. Gold Plated jewelry uses an electrochemical process that lays a thin layer of gold onto the surface of an unknown metal. The thin layer of gold plate can easily wear or rub off.
Certified .925 Sterling Silver
Sterling silver is an alloy of 92.5% silver and the other 7.5% is copper (always nickel free). The copper alloy increases the hardness of sterling silver, which is an innately soft metal. Unfortunately sterling silver will tarnish over time (see care instructions below - luckily the metal is very easy to clean!).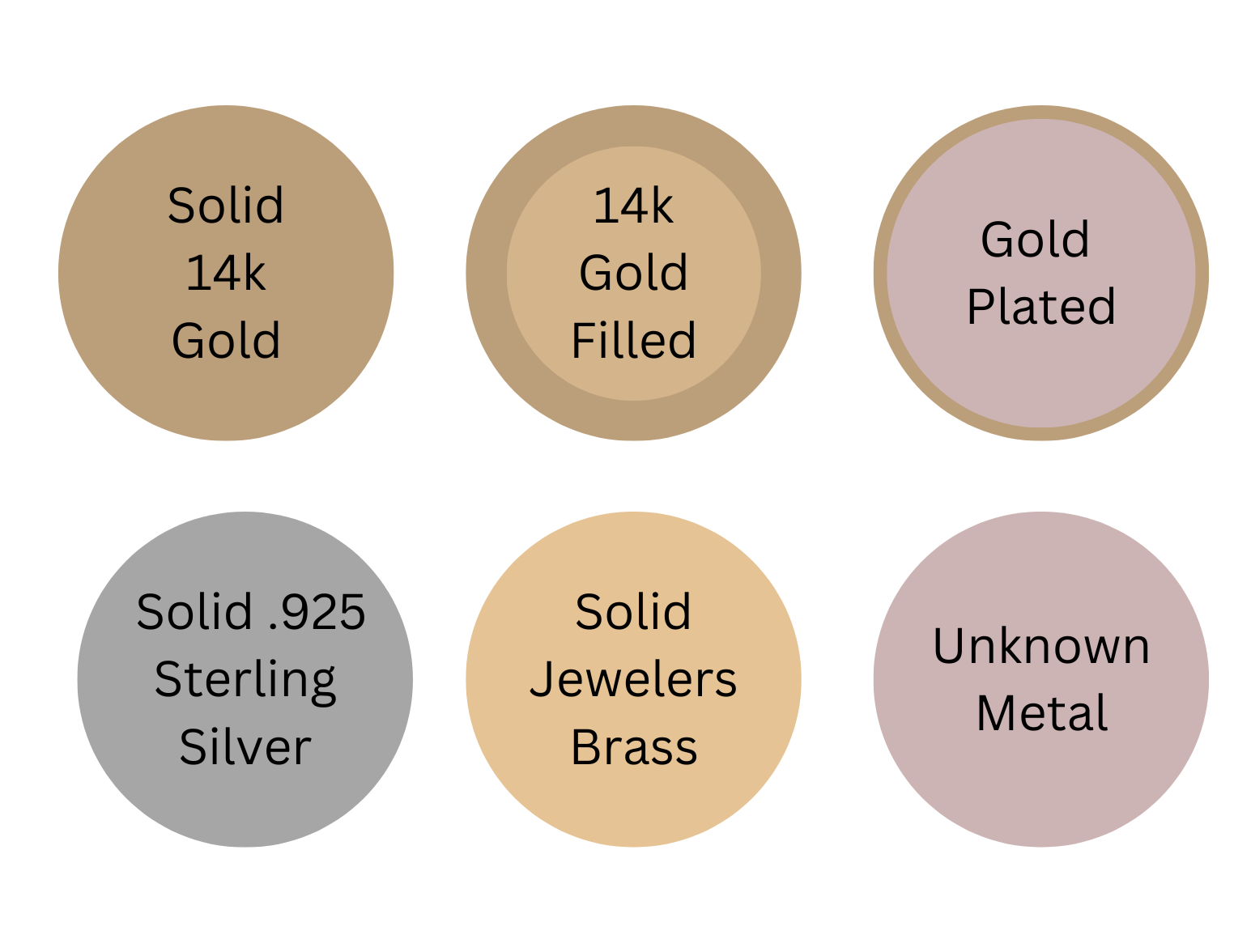 CARE
Take care of your jewelry and it will look like new for years to come!  Here are some tips to keep your pieces cared for:
STORAGE: Store your jewelry (especially Sterling Silver) in an air-tight container when not being worn. Oxygen, skin oils and moisture will tarnish your metals.  A small ziplock bag works well to keep your jewelry air tight if you are not going to wear it for awhile!
CHEMICALS: Although our jewelry is waterproof, sweat and shower-proof it's always recommended to avoid prolonged exposure in chlorine, pools, hot tubs and spas - especially salt water pools/ tubs.
CLEANING & POLISHING: If your jewelry needs polishing or begins to dull or tarnish, don't worry – it can get back to it's beautiful, shiny self. We recommend a Sunshine Polishing Cloth, but any jewelry cleaner will work.
CHAIN CARE: To help prevent tangles, we recommend closing all clasps before storing.
CLEANING & POLISHING: If your jewelry needs polishing or begins to dull or tarnish, check out our care page to purchase a Sunshine Polishing Cloth (all gentle any jewelry cleaner will work as well).
ENDLESS HOOP HOW-TO:
1.  First, to open the hoop gently pull the wire post out of the tube.

2.  Move the two ends of the hoop sideways (apart from each other) to fit around your lobe.

3.  Next, insert the thinner wire into the front side of your piercing (some prefer to insert back to front).

4.Once earring is through, gently insert the thinner wire back into the tube.